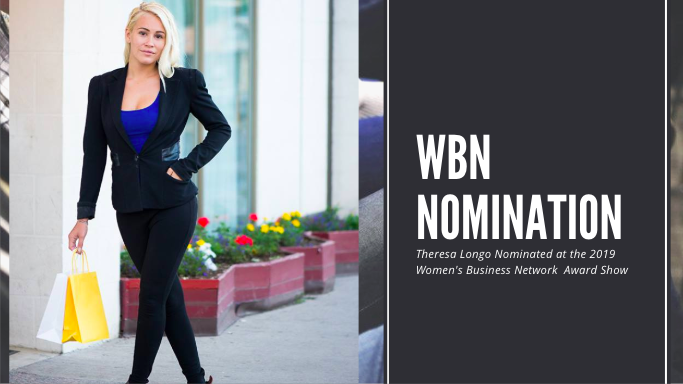 Honored to be nominated for the 'Women In Business Award' (Business Leadership) & 'The Judy Heffernan Award' (Empowering Others) at the annual Women's #Business Network awards.
Presented April 9th, 2019, in Peterborough!
Nominee Info 
Theresa Longo dedicates much of her time to creating initiatives which protect and guide aspiring young actresses and entrepreneurs. Theresa is professional, hardworking and committed to leaving a positive footprint in the world. She is fearless in her pursuit of success yet critical and observant in business. A B.B.A (Hon) graduate of Trent University, Theresa has the courage to build her brand, business and legacy in interactions with companies, corporations, and businesses around the world. She continually learns new things, opening herself up to a world of possibilities by working for herself. Theresa is consistent and adaptable in her pursuit of success. She is fluent in Spanish.
Theresa is the co-founder of ProjectPlaybook.ca, helping to guard young women against internet exploitation. She also mentors young aspiring talent through her parent agency STRUTT Central, teaching young kids the value of hard work, positivity and how to work for success.  She talks about how to believe in yourself, how to find success and how to deal with negative people online as well as important things to be mindful of while pursuing dreams. She regularly motivates and empowers young women to follow their entrepreneurial talents.
Buy Tickets
Celebrate the awards on April 9th https://www.womensbusinessnetwork.net/awards-event/  Buy tickets to the show.
Full list of 2019 Peterborough Women In Business & Judy Heffernan award nominees are here:
https://www.facebook.com/wbnptbo/ be sure to give the Facebook page a thumbs up!