Instagram is huge! Are you gramming? Follow me @theresalongo on instagram. Nowadays people want a lot of likes, followers and comments on photos. True grammers know and  love the moment they upload a new, awesome, instagram photo and then refresh 20 times to see all the likes/comments from friends. Instagram allows you to hashtag posts to ensure your photo is viewable by all those in the same hashtag category. Here are the best tips to follow if you want to gain more followers and make the most out of your instagram experience.
1. MoreBeaute or Perfect365 
MoreBeaute is an app  for self-portraits or pictures of people, because it has a miracle skin filter which makes everyone look perfect.  With this app, you can make yourself look natural and gorgerous! moreBeaute is a FREE photo editing application designed for iPhone/iPod/iPad. It brightens, lightens your skin tone and smoothes your skin in just 2 easy steps, no make-up skills needed! Skin Filter can be adjusted to make yourself look like princess-dream-face-pretty-perfect-Barbie, or just give yourself a little tweak here & there. Although I have not tried this app personally, I have heard this app to be simple in design and easy to use. You either take a photo or select one from your library, &  adjust the smoothness or brightness. MoreBeaute allows you to toggle between the new and old photo so that you can view the changes you've made. This is just one of the many apps available for you to enhance your instagram pic!
Perfect365 is an app that literally lets you change your skin tone, brightness, eye size and more. It is quite dramatic.
A great trick and an alternative to either one of these apps is to take a self-portrait as close to a natural light source as possible. Standing next to a window — especially on a cloudy day works like a charm. Def looks flawless.
My Natural Light Pics: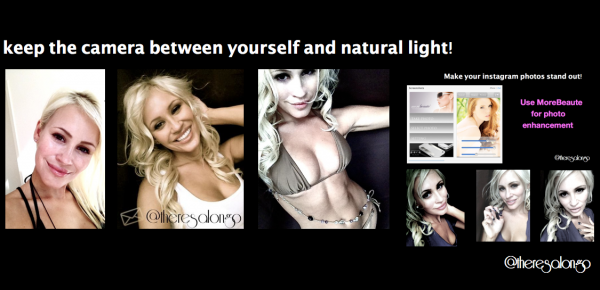 Camera Awesome takes your photos to the next level by shooting fast and taking sharper, better-exposed shots. Make  memories come alive with stunning professional effects. One Tap sharing let's you spread your photo joy on the sites you love. Camera Awesome is an app that has an "Awesomize" slider, to adjust brightness, contrast & vibrancy all at once. This app is an all-in-one for photo touch ups. The Presets & Filters tabs are apparently fantastic , & there are a ton of options. Camera Awesome offers some free features, but a lot of features offered are paid. It's 99c to purchase 9 filters, & just like with Camera+ you get to use them forever. Camera Awesome has some really dramatic effects, as well as textures & frames. Totes worth experimenting with!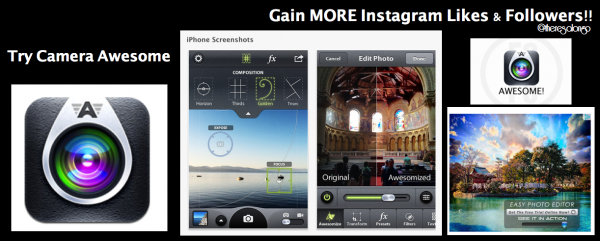 Camera+ is always a great choice to use to edit a photo. Once you've selected the photo you want to alter, five options are provided: Scenes, Adjust, Crops, Effects & Borders. In Scenes, you can adjust the lighting of the photo. Choose from a huge variety of settings like Clarity, Auto, Flash, Backlit, Shade, Portrait, & so on. Camera+ has the best lighting adjustments, & sometimes all a photo needs is a little brightness to make it pop!
 4. Quality Over Quantity
Generally if you want to get mass likes – we're talking in the 'thousands of likes' category, you will post high quality, vibrant, eye catching photos. Many of the grammers online with the highest number of followers and the most photo likes are those who stick to posting minimally, and who consistently post incredible shots. People on instagram seem to have a deep appreciation with the type of photography possible on the app. Many are impressed with the app's features, and truly awesome photos are the ones that get the most likes & comments.
5. Mix It Up Often!
Although we all love a great self-portrait; remember to keep things fresh and interesting with a couple of spectacular randomized photos. Sometimes people 'gram a screenshot of their favorite itunes song, others 'gram stuff they see out in the street. Some like to 'gram cool quotes, ecards and stuff. Keep it interesting for your followers and you will be sure to gain a lot!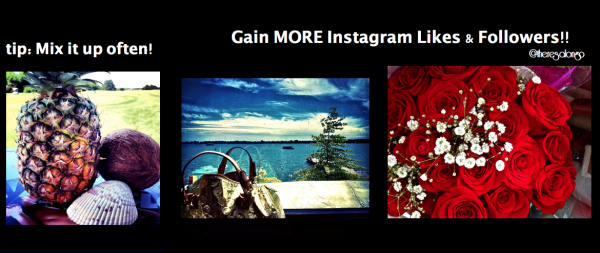 6. Combine Several Photos with Picture Frames or Pic Collage
Some apps allow you to make a photo collage therefore you can incorporate several different photos in one. The first app is called 'Picture Frames', which lets you choose your photo layout and then take new photos or simply pick ones from your photo library. Pic Collage acts as one giant bulletin board where you are able to easily create fun collages from your mobiles photos, Facebook photos and from the web. Use simple intuitive touch gestures to rotate, resize, edit and delete photos. Add text and photo effects to your collages, and share them via Facebook, Twitter and email. There are also lots of fun background for you to choose from in Pic Collage. Good to know: On an iphone now you can take a screen shot of anything you are working on by simultaneously holding  the 'lock' button (top of iphone) and the home screen button, but you can crop it any way you like later.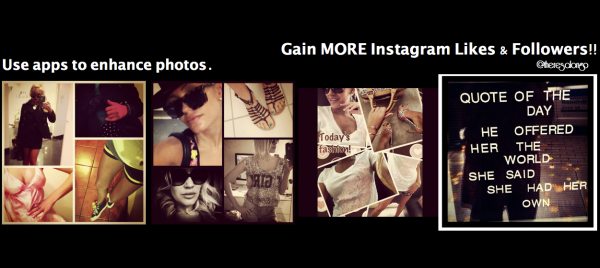 7. Find Out What is Trending on Instagram
Best to see what people are really into if you want higher chances that photo makes it to the front page. Check out the 'Popular' Tab in instagram to find out what people like most. This will give you a better idea of the type of photos to take. Often the best photos are scenic, or adorable, eye catching, or involve a pretty lady. Knowing people's tastes will work to your advantage in the long run if you are serious about building a big database of followers and fans on instagram.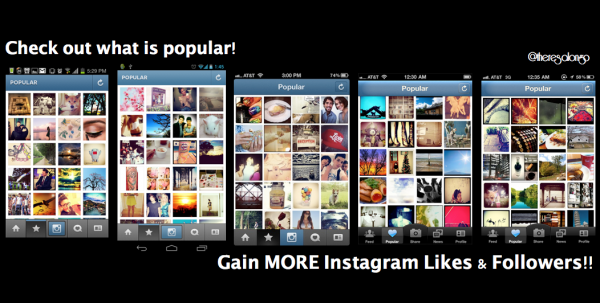 8. You don't Always Have to Add a Filter. #NOFILTER
It may sound like insta-blasphemy, but you really don't have to add a filter EVERY time you share a photo. Sometimes: less is more. Natural photos give your followers a true look at everything you are seeing. Be sure to use the hashtag #nofilter to have your image placed within a collection of the same type of images for others to see.
9. Play Around with Colours Using Colorize or ColorCanvas Basic
Although Colorize is not a free app, it is worth mentioning for its cool-factor. Colorize lets you recolor your photos to create amazing new artwork and effects. Most selective coloring apps give you 2 painting choices: gray or original color. With Colorize, you can do this PLUS the ability to paint nearly ANY color! Modify and change the colors in your photos before instagramming for added pop! Color Canvas Basic is a simple way to introduce yourself to the fantastic art you can create with your everyday photos. If you are incredibly mobile and want to share your life as it happens via PhotoShare, email, blogs or social networking sites then Color Canvas Basic is the perfect app to help you gain instagram followers and increase photo likes.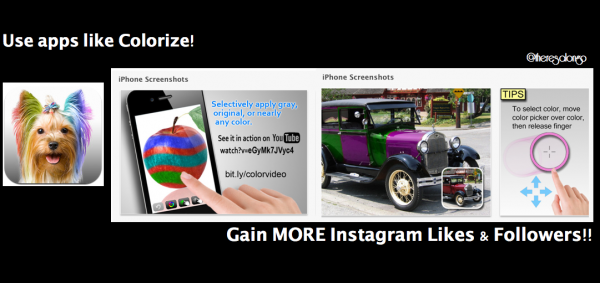 10. Be Yourself!
To be yourself in a world that is constantly trying to make you into something else is the greatest accomplishment. The world is a better place because you are in it. By being yourself, you add something more to the world than was already there before. Remember to just be yourself on instagram, and your confidence alone will ensure you gain followers and likes faster than you can keep track of!
Add your own tips for making your Instagram photos stand out in the comments section below. Follow me on Twitter!!
Follow @TheresaLongo