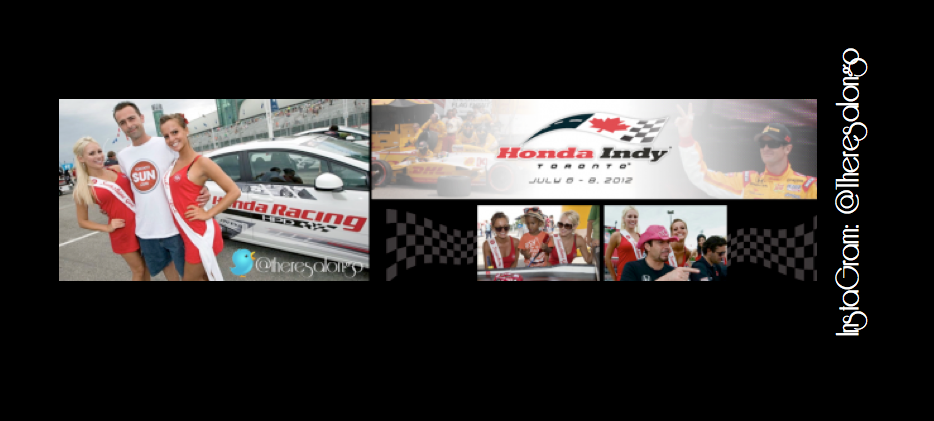 The 2012 Toronto Honda Indy was incredibly hot. Speaking not only of the bevy of beautiful SUNshine Girls floating around Exhibition Place grounds, but also of the scorching temperatures all weekend long! This year's Indy festivities kicked off with a 'Driver's Start Your Engines' Pre-Party at South of Temperance , hosted by the Toronto SUN.
Friday, families and Indy Fans from all over descended upon Exhibition Place. FREE FRIDAY courtesy of the Ontario Honda Dealers Association. All grandstands were accessible, providing fans with prime vantage points & interesting behind the scenes access in the IZOD IndyCar Series Paddock all day.On Saturday Dario Franchitti came away from the 2011 Honda Indy Toronto with a 55-point lead over Will Power in the IZOD IndyCar Series championship standings, which was a determining factor in securing his third consecutive title.Sitting eighth in the title chase entering the 85-lap race July 8 on the 1.75-mile, 11-turn circuit — 70 points behind front-runner Power — the reigning IZOD IndyCar Series champion could use the win. Franchitti had a great start to the race weekend at Exhibition Place, topping the first day of practice with a lap of 1:00.2786 (104.813 mph). Rookie Simon Pagenaud was second quick (1:00.3904) in the No. 77 Schmidt Hamilton HP Motorsports car. Franchitti's Target Chip Ganassi Racing teammate, Scott Dixon, who was runner-up in the race last July, was third at 1:00.5423. [Indy Stats Courtesy of Honda Indy Toronto]
On Saturday Theresa Longo participated in the opening ceremony for the Firestone Indy Lights Race. The Toronto SUN contest winner did his very best 'Driver's Start Your Engines' yell & then  jumped into the pacecar for the first lap around the track! How amazing was that! After our lap around the track we headed to the Winner's Circle for a IndyCar driver signing, where Theresa Longo  posed with Alex Tagliani and Dario Franchitti. Alex had brought along his 'Tag on The Go' cookies and was gifting a lot of the fans with sweet treats at the autograph table. What a nice guy!
Top Brand Ambassador Theresa Longo recounts her extra special weekend at
Toronto Honda Indy:
Sunday was even more eventful: I was whisked away to speak with Canada's Favorite, James Hinchcliffe prior to the start of the Ferrari Race. He is a really nice guy ! I asked his lovely Australian lady if she gets nervous when he is racing and she told me "I definitely do. I am counting all the cars at every lap, making sure his car is with the pack".
All weekend Theresa live-tweeting the adventures. Twitter was abuzz with Indy Tweets  >>  ‪#HondaIndy‬.
Follow @TheresaLongo
Sunday just before the start of the IZOD IndyCar Series I was lucky enough to ride another lap in the Honda Pace Car Truck with Will Power and James HinchCliffe. After a closely contested race on the streets of Toronto, Ryan Hunter-Reay of Fort-Lauderdale, Florida captured the 2012 edition of the Honda Indy Toronto. His victory, his third consecutive in the IZOD IndyCar Series, propels him to the leadership position in the series standings. His win was hard fought in an exciting race that featured multiple leader changes, two cautions and numerous incidents of car-on-car contact. Charlie Kimball earned a career best performance with a second place finish while Mike Conway impressed fans with a swift shift from an 11th starting spot to a season-high third place finish.
The 2012 Toronto Honda Indy holds many special memories!
Check out a gallery of my favorite photos. Many thanks to SUN Photographer Jack Boland for so perfectly capturing many exciting Indy moments all weekend long.