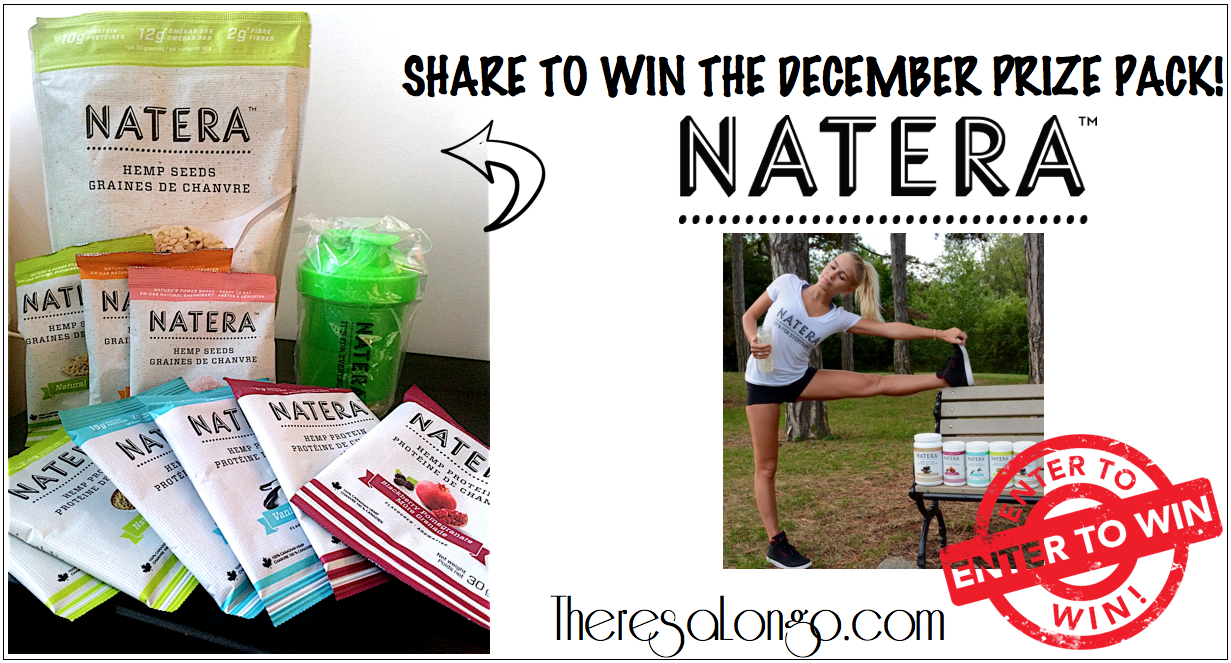 Thank you to loyal visitors and readers at www.theresalongo.com/blog! 2015 was a record year for BLOG TRAFFIC!
What better way to celebrate than with a sensational contest brought to you by theresalongo.com and Natera Life.
WIN A SUPREME Natera™  PRIZE PACK – SIMPLY SHARE THIS POST ON SOCIAL MEDIA. WE WILL CHOOSE 2 WINNERS DECEMBER 15.
Prize Pack Includes: Natera™  Hemp Protein Sample Packs (2) Each- Natural Flavor, Vanilla, and Blackberry Pomegranate. 1 Natera™  Shaker Cup. Sample Flavours (3) of Natera™  Hemp Seeds – Himalayan Pink Salt, Maple, and Natural. Includes: 1 large bag of Natera™  Hemp Seeds (perfect for soups, salads, cereal, or as a tasty snack!)
Recently I had been researching which populations live the longest. According to world expectancy charts, Japan ranks #2 in places where people live the longest.
I started reading an interesting article called "10 reasons Japanese Women Don't Get Old or Fat" and it is noted that their diet is primarily fish, sea and land vegetables, rice and green tea. One scientist suspects OMEGA is a big reason behind why people live long. Omega (the good fat) is said to reduce depression, relax the cardiovascular system, and can improve hair, skin and nails.
A study published in Annals of Internal Medicine tracked participants for 16 years, and the participants with the highest omega-3 levels in their blood lived, on average, 2.2 years longer than those with the lowest levels. The risk of death from coronary heart disease in particular was significantly lower.
Omegas are necessary for human health but the body can't make them. Omega-3 & 6 have incredible anti-inflammatory properties.
Natera is high in fibre, extremely high in protein, and low in sugar (low glycemic). It is safe for those on special diets, such as vegans, and does not contain dairy, wheat or soy. From NateraLife.com: "Sustainably grown in Canada, pure Natera Hemp Seeds and Hemp Protein Powders are the ideal centerpiece for the vegan diet and they're all naturally gluten-free, GMO-free, with no preservatives, additives, or trans fats. Just pure nutrition. Straight from the good earth to you."
Contest Rules: 1 SHARE to any social media platform = 1 contest entry. You may share multiple times to obtain multiple entries. Winners will be notified via DM, Instagram Inbox, or Facebook Message. Winners must provide full mailing address for shipping of the product. There are no costs to the winner. We reserve the right to void/change contest rules at any time.